One of the most enjoyable aspects of getting away is being able to try out new and different menu items. You are likely sick of eating the same old thing night after night. While you're on vacation, that is the perfect time to change it up. If you find yourself in Los Angeles, there is one thing that you can be excited about…. great food. Here are some of the best places to eat in the city of angels.
The Best Places to Eat In Los Angeles
Planet Raw
Eating out doesn't have to mean greasy food and giant portion sizes. It can actually be good for you. Don't believe it? Just look at Planet Raw in Santa Monica. This restaurant is considered one of the best places to eat vegetarian and raw food in Los Angeles. With many different dishes to choose from, you can splurge without feeling like you need to head to the gym afterward!
Chic Wine Bar
Are you less into raw food and more into enjoying French and Italian dishes? Then the Chic Wine Bar will definitely be your best bet. They serve many classic meals like sausage rigatoni and have a wide selection of wines. With cute sidewalk tables and great French and Italian food, you will forget that you are in LA for a moment.
Muddy Leek
Want to feel like one of the rich and famous? Then head to Muddy Leek, where getting a seat on the back patio is almost as impossible as getting a part in the new Hunger Games movie. This café in Culver City has a menu that is rich in produce (hence the name!). However, there are some other choices for those looking to fill up. The best dish to dry is chicken fried bacon.
Pizzeria Mozza
At Pizzeria Mozza in West Hollywood, you aren't just getting excellent service and great food. Time and time again, this hot spot is rated the best pizza in the city. Whatever toppings you like on your slice, they'll have here.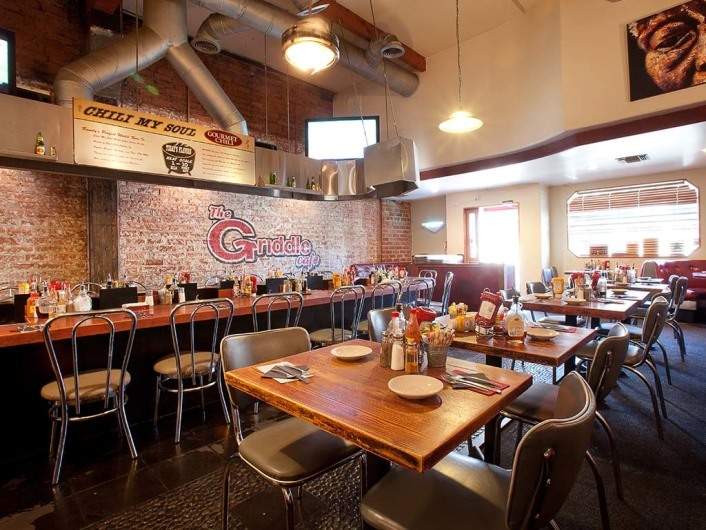 The Griddle Café
Also, West Hollywood is a place where you can go All-American with your dining experience. If you're sick of all the organic food and healthy eating, don't worry – The Griddle Café will fix everything. This restaurant offers massive portions and serves diners breakfast until 4 pm daily. If you stop by, don't forget to order their delicious buttermilk pancakes. You won't regret it!
Post & Beam
Want a little southern cooking during your trip? Then Post & Beam should be your first stop. This restaurant has a down-home feel with wooden tables and a veggie garden out front. Even though the touches scream quaint and cozy, the food itself has a sophistication that only Los Angels could turn out. Some of their most popular dishes include their homemade cornbread and their buttermilk fried chicken. You certainly won't leave feeling hungry.
Experience everything that Los Angeles has to offer, including their wide range of dining options. Whatever type of food you enjoy most, there's a restaurant for that! So, put your comfy pants on and enjoy your next meal.